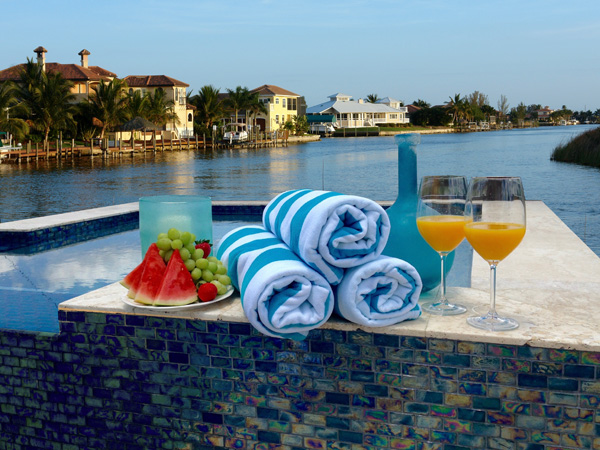 Professional property management of our vacation homes in Cape Coral
All vacation homes we offer are supervised by a professional, licensed on-site property manager in Cape Coral, Florida. If you have any questions during your stay, please feel free to contact us or the staff of the property management.
Special services of the property management for new construction or remodeling of existing homes
The entire interior of our houses is designed by a team of designers, from ordering the furniture to the final decoration. These international design standards guarantee that our international customers feel comfortable.
The service of property management during your stay includes:
Before arrival of the tenant: a functional inspection of the technical devices, the lights, the fans and the kitchen devices
Fill glassware and utensils
Provide a baby bed or high chair upon request.
Deposit of the house key in the key box at the entrance
The day after your arrival: House briefing (hand over protocol), explanation of the technical devices in the kitchen, washing machine, dryer and air conditioning system etc.
Contact information for the tenant
The day of departure of tenant: acceptance protocol, handing over the keys
After departure of the tenant: Remove left over food and place the garbage can outside at the collection days
Order and control the cleaning after tenant left
Other benefits of the on-site property management (Full Service)
Weekly control / inspection of the house
Additional local contact after storms
Checking the house for damage, malfunction
Commissioning, monitoring and acceptance necessary repair and maintenance work by specialist companies
Place garbage cans outside
Emptying the mailbox and sending important mail
Settlement of all invoices, for example, electricity, water, telephone, Internet
Designation and monitoring of pool service, garden service, and Pest Control
Checking the irrigation system
¼ annual replacement of the filter of the air conditioner - at extra cost
Billing of all services
Preparation of all documents sent to the accountant (e.g. notification and payment of Florida Sales & Tourist Tax regarding the rentals etc.)
If you are looking for a professional property management contact us